Most parents want to take music lessons for kids, but do not do it because they have never studied music themselves or had a bad experience with it. Discover the main idea for the successful music lessons of your child in this article.
I have never met a child who does not like music. If you say that this is not the case, please look closely to your child. Child's love of music can be seen not only in infancy, but also when it is in the womb.
It's hard to overestimate the magical effect of music on people – his character, behavior, and even health.
Do you know, dear parents, what miracles happen with the child's brain if he takes music lessons and learning to play any musical instruments? During these years of study, IQ of the child is growing by leaps and bounds!
If you do not have a goal to grow a future musician, it does not mean that you should not deprive your child a wonderful chance to develop his IQ, which he can apply to any other profession.
If you want to get the most result out of music education, find for your child a music teacher who is not only a good musical performer, and who is well versed in a child psychology.
The music teacher must be a senior mentor and your child should be carried out any his tasks without any pressure from the outside. If this is so, then you have found a really talented music teacher with whom your child is interested.
Well remember, your teacher, and you, dear parents should not force, and to kindle and maintain a child's interest in music.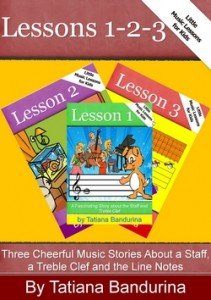 For example, the most boring subject of music education (music theory), I propose to study with interesting stories and simple games. Why? Because children love to listen to stories and play games!
A little imagination and with the help of new stories you can teach a child to play a musical instrument without any pressure. On the contrary, your son or daughter can practice with great pleasure, not noticing the time spent.
Make the right step – find the talented teacher for music lessons of your child! The good teacher is the most powerful tool in the music lessons of your child.
You can read more articles about music education of children here
Share and Enjoy